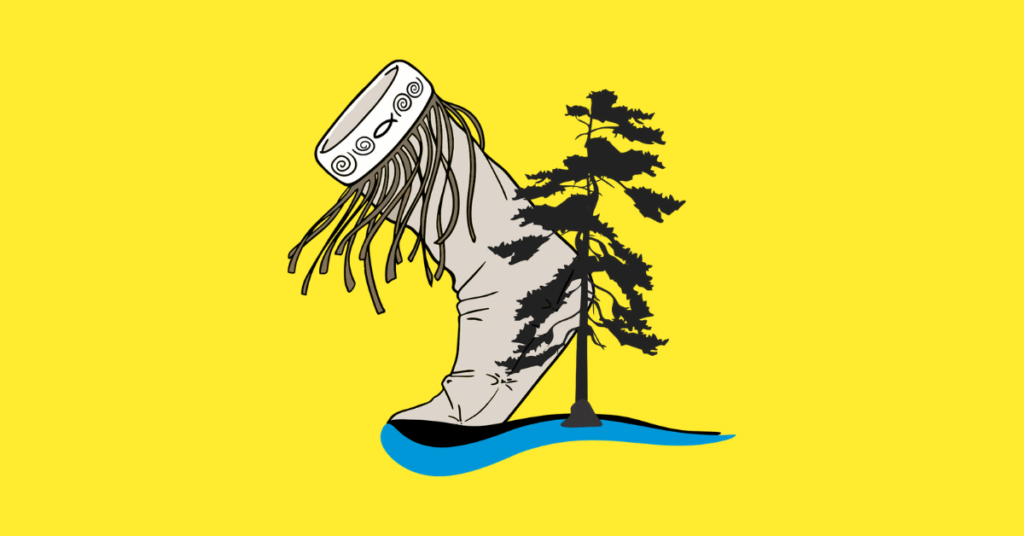 If I were to give this logo a name describing an intention it would be Wise Women and Men Relating. When I recently redesigned my public self I realized I needed a logo that would mean something to me beyond a trendy popular stamp.
I told my story to my friend and artist Colleen Gray, a wonderful Métis woman and humanitarian, that champions a non-profit organization called Art for Aid (www.artforaid.ca).
The Logo Elements: The spiral path I have been on, leads me to know more of myself at varying levels. This logo design holds sacred Maltese symbols. The spiral and the fish are symbols of healing and rebirth. The natural elements of moccasin leather, water, and the versatile Jack Pine are strong, resilient, and replenishable resources once abundant and free to all. The sense of motion in the moccasin and Jack Pine is the momentum to continue to evolve through learning offered by teachers and practices presented to me throughout my life.
The Journey Reconnecting to My Natural Self. I was born in Canada but my family is from Malta, an incredibly beautiful island in the Mediterranean. I have been able to visit this place and enjoy my family there and the island's rich history. However, until I lived in an Indigenous community in Georgian Bay I did not know what to ask about my country of origin. My connections to the First peoples who, when I asked questions about their situation, sent me to learn about my origins. My subsequent connections to Indigenous communities across Canada always brings me back to knowing myself and teaching me how creation is medicine to care for and Love us without condition. I am truly thankful for those experiences. As a result, during my recent visits to Malta, I took the opportunity to know more about who I am. I researched the history of Malta. I learned about the conditions my ancestors faced such as raiding by outside forces and citizens taken as slaves. I also learned of a culture with great resilience and joy of life.
I want to thank the many Indigenous Elders who have taught me to find out who I am, what is the story of the land I came from, and graciously taught me so much about the land I now call home and the nations that lived here before me without depleting the health or abundance of their environment.
Now it's time to pass on the knowledge and wisdom I, and my colleagues that will join me, have acquired through this gift of online events. I look forward to more sharing.
Undertaking the webinars and workshops outlined in my website is an effort to cultivate a culture of peace. A culture of peace will build bridges between people.