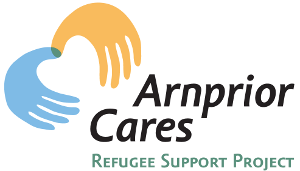 Arnprior Cares
Another group that pulls at my heart is called Shalom Educating from Peace in Rwanda. This organization has been providing education and healing and reconciliation forums to communities throughout Rwanda since 2007. Their director escaped to Canada in 2018, and has been accepted through Canadian Immigration to reside in Canada as a permanent resident, due to a need for protection. He is still waiting to be able to bring his family here.
Like many other peacebuilders who are advocating respectful interactions in their countries, these men and women, and their families, are seen as a threat to those who use corruption as a method of leadership. You can imagine the pain and difficulties that people experience being displaced, having to leave their culture, land, homes, work, families, and friends due to corruption and to international interference.
Arnprior Cares is an organization that established community-based support for the director I mentioned above – Jean and his family. Arnprior Cares is located in Arnprior and Kitchener/Waterloo, Ontario (where Jean currently lives/works since 2019.) Arnprior Cares provides ongoing emotional and financial support to Jean and Jean's wife and three children, who are still in Africa. Arnprior Cares are building resources to be used when the family comes to Canada, after 4 years of separation and counting. For more information, to express support and/or make donations to support this refugee family, see the website arnpriorcares.ca. Please note that while there is little news to report on the website we have been meeting and supporting the family as they await their acceptance to reunite.

You can also make donations to Shalom Educating for Peace at http://www.shalomeducatingforpeace.org/
Support for peacebuilders in Canada and abroad is growing. Imagine what the world would be like if peacebuilders received the money and authority that the military does. It is time to change, to shift the attention and will to make peace the world standard of success.